Episode 43: Approaching Singularity with Jesse Moynihan
Posted Feb 20, 2014 by bn
So.
The topic of Singularities in physics is a wonderful one.
but it's deep. and weird.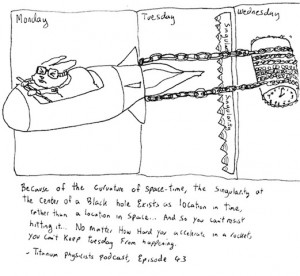 there is an inevitability to them, and a finality to them. And in spite of these two features, we also know that they can't be the whole story. They are both the end of the universe, and the edge of the theory.
There are strong arguments in favour of the idea that our universe began as a singularity.
There are strong arguments that say that the singularities in the middle of black holes are inescapable.
There are strong arguments which say that you will never see a singularity.
It is a world of contradiction. It is a world of certainty.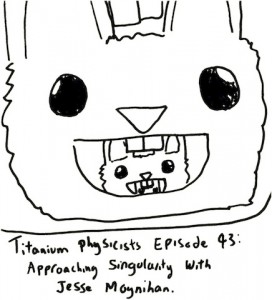 I have recruited THE jesse moynihan, author of Forming (volume 2 will be out soon), and writer and story board artist from some of our favourite episodes of Adventure Time. Jesse gets an earful, but his wonder and curiosity are admirable. You can follow jesse on twitter and on tumblr if you so desire.
This episode is also the debut of the indomitable Katie Mack, the astrophysicist whose outreach efforts are both awe inspiring and amazing.
Physicists: Katie Mack, Jocelyn Read
Intro Music: Ted Leo and the Pharmacists 
Exit Music: John Vanderslice 
Transcript: Ep_43_Approaching_Singularity