Ben Tippett: Hello, my name is Ben Tippett. I'm a physicist, and a university math instructor. I study black holes and gravity stuff.
Barn: Hi. I'm a little white rabbit who knows how to type.
BARN WAS ASKED TO INTERVIEW BEN ABOUT HIS TARDIS PAPER , IF YOU WOULD LIKE TO READ A MORE SYSTEMATIC EXPLANATION, TRY READING THE BLUE BOX WHITE PAPER , WHICH SUMMARIZES ALL THE IDEAS FOR A NON-TECHNICAL AUDIENCE.
Barn: Okay, so you said that no one ever interviews you and that you'd like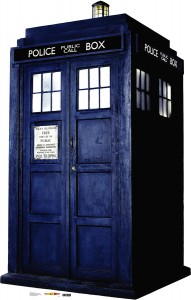 someone to interview you about this TARDIS paper you wrote, but also you wanted me to do it because I'm a fictional rabbit and so I know all the right questions to ask.
BT: yeah.
Barn: okay… so. This TARDIS paper. TARDIS usually stands for "Time and Relative Dimension In Space". Why isn't that the acronym you used in your paper?
BT: uh. It's not very descriptive. The acronym "Time and Relative Dimension in Space" is evocative of Einstein's Theory of spacetime, but it doesn't really mean anything. so we went with "Traversable Achronal Retrograde Domain In Spacetime," which means that it's a box that can go backwards in time and move faster than the speed of light.